November 2023
---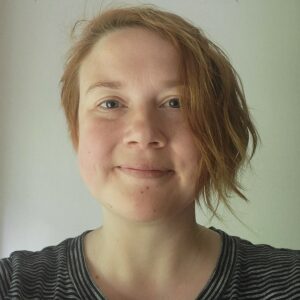 Tayla is from Lindsborg, Kansas. She is a mom and she currently recently started working for the National Alliance on Mental Illness (NAMI) Kansas. She's excited about her work and sees longevity in her career.
"It's a job that I feel like I'm going to be at for a while," she said. 
Tayla has experienced mental health issues for most of her life. She has Bipolar I disorder and Post Traumatic Stress Disorder (PTSD).

Like Tayla, many Kansans with mental health issues end up in a cycle: they need a job with insurance to manage their health conditions, but it is difficult to get and keep a job if their health conditions aren't managed well.
When she has been without health insurance, Tayla has struggled to keep up on regular medical care, especially her mental health needs. Not having insurance meant she couldn't afford her $300 medication and that she had to pay out-of-pocket for a doctor's visit. Tayla also had to give up seeing her therapist during this time.
Now that she is employed again, Tayla is excited to have health insurance, though she's currently in a waiting period. Because she has lived in the coverage gap, she knows how valuable affordable health insurance is.
Tayla is motived and ready to make progress on her mental health now that she will have health insurance soon. Expanding our state's Medicaid program, KanCare, would have made a massive difference in Tayla's life: it would have provided her with affordable health insurance while she was in between jobs. And it would have allowed her to have consistent medical care, making it easier to consistently be at work.
It's time to expand KanCare to ensure that Kansans like Tayla can get the behavioral and physical health care they need.