Kansas Policy Expert and Advocate April Holman Selected to Lead Alliance for a Healthy Kansas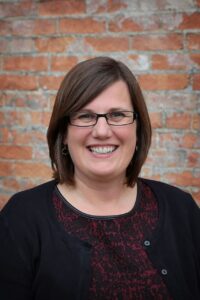 The Alliance for a Healthy Kansas has announced April Holman as the new executive director to lead the statewide health advocacy organization. Holman, an attorney and experienced health policy leader, will join the Alliance on August 16.
"More than 100 partners have joined forces in the Alliance for a Healthy Kansas to increase access to health care through Medicaid expansion," Holman said. "I am inspired by their work over the past two years, honored by the opportunity to join this effort, and energized by the potential to fill the health care access gap in our state during the year to come."
Holman started her career as a fiscal analyst and research analyst for the Kansas Legislative Research Department. She later transitioned to Kansas Action for Children, a children's advocacy group in Topeka, where she worked as Director of Policy and Research, Director of Fiscal Focus, and Executive Director for the Partnership for Early Success. Holman most recently served as executive director for the Kansas Adult Care Executives Association.
Holman will oversee the coordination of the Alliance, from grassroots outreach to policy and advocacy, as it seeks to ensure access to health care for all Kansans, including expansion of KanCare, the state's Medicaid program for low-income children and adults. She assumes the position previously held by David Jordan, now President of the United Methodist Health Ministry Fund in Hutchinson.
"Holman's legislative knowledge and nonprofit leadership experience in Kansas positions her to guide the advocacy work of the Alliance, which has built a strong base of support for KanCare expansion and other health access issues," said Brenda Sharpe, President and CEO of the REACH Healthcare Foundation, one of five Kansas health foundations that provided funding to help launch the Alliance's outreach work.
The Alliance for a Healthy Kansas was formed in 2016 to educate Kansas policy leaders and citizens about the health and economic benefits of expanding KanCare. More than 150,000 Kansans would gain access to KanCare coverage with expansion. Additionally, KanCare expansion would provide more financial stability to hospitals and health, mental health, and oral health care providers that currently serve low-income and uninsured residents.
For more information, contact Sheldon Weisgrau at (785) 550-7236 or sheldon@expandkancare.com.